The essence of love is at the heart of Anna's wedding photography in Greece and beyond.
Named Best Wedding Photographer in Europe by The WED
As one of the leading wedding photographers in Greece & Europe, Anna believes moments of demure gestures and quiet intimacy are the most enticing. Split-second glances between a new bride and groom, or the tender swaying of a veil in the breeze, never go unnoticed under her watchful eye. For it is these captured subtle moments, above all else, that you will cherish with your loved ones forever.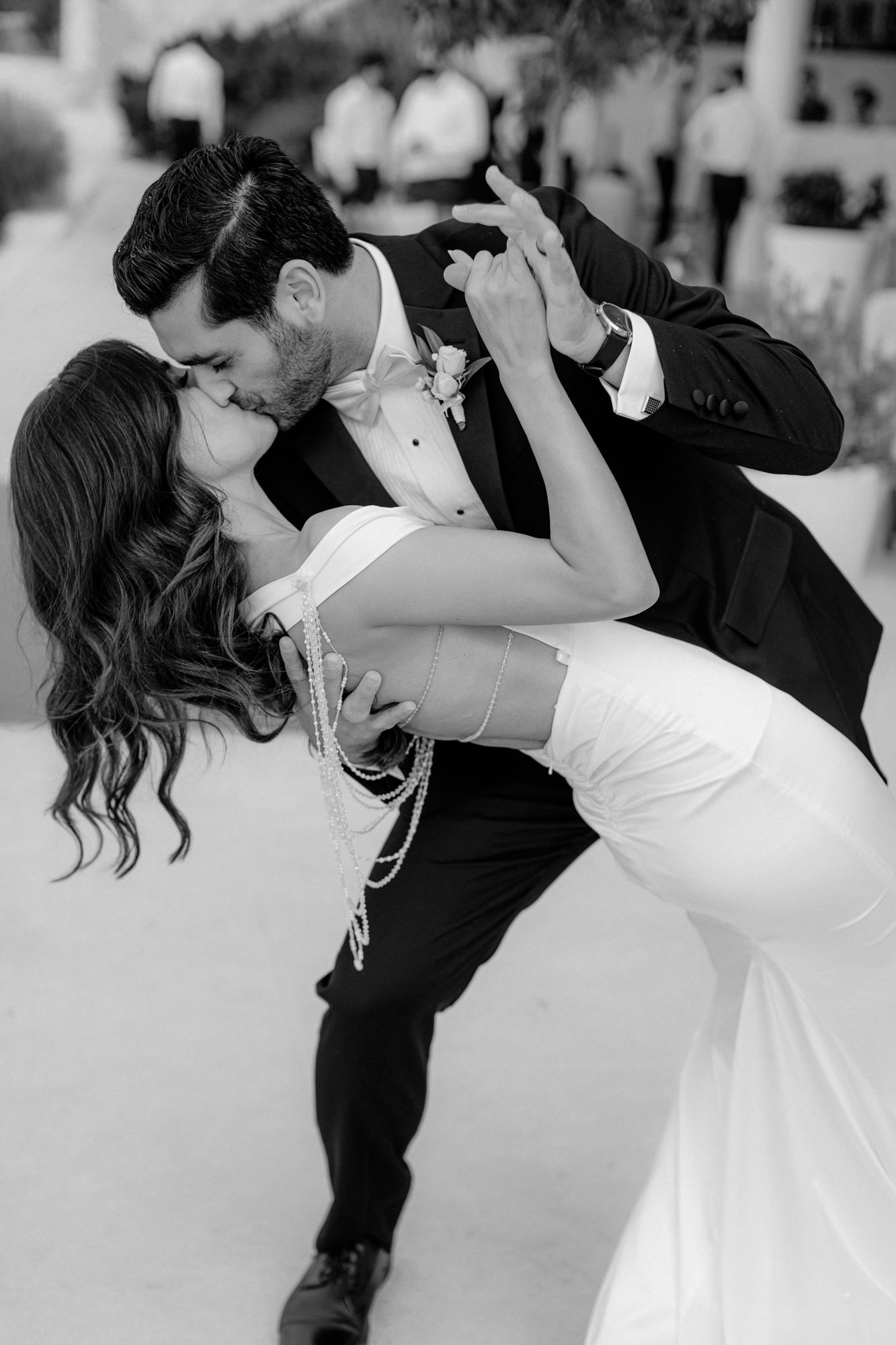 wedding photographer in greece & europe Since 2008
Editorial and high-fashion are among some of Anna Roussos' favorite types of photography to shoot. Anna's appreciation for haute couture, along with years of working on such stylized creations, has lent itself to some of her most visionary work. She would gladly make your special day feel like an editorial shoot and wedding day all in one.
With an abundance of the latest en vogue trends at the forefront of her photoshoots, Anna is one of the top choices of a wedding photographer in Greece that goes beyond the ordinary and into the luxe world of high-fashion. Her imaginative nature can create a pictorial shoot with a stylish exuberance fit for any modern bride.
Elegant wedding photography with a FASHION TOUCH
Curator of

unforgettable

memories to last
a lifetime
wedding photographer in greece, europe & beyond
Anna believes the world revolves around emotions. The strength and gentleness that leads us through our lives. The vulnerability of quiet times of reflection. All moments, no matter how fleeting, hold equal weight and have a tale to tell. Being privy to your love story and capturing these moments is an honor she cherishes. As one of the elite wedding photographers in Greece who has garnered international recognition for her excellence, she vows to exceed your expectations and create a pictorial of superb standards.
CELEBRITY WEDDING PHOTOGRAPHY IN GREECE
Wedding of Wojciech Szczesny & Marina
It's weddings like Polish soccer star Wojciech Szczesny and pop singer sensation Marina's that Greece wedding photographers consider a dream job. Uber-chic and floral-inspired, it was a destination wedding for the ages with enough beauty to capture for a lifetime. Brimming with ethereal, timeless elements and fairytale-like details, the Athenian Riviera's scenery at this breathtaking wedding was Breakfast at Tiffany's meets botanical garden fantasy.
No request is too opulent or vision too far-fetched for even the most luxe wedding of your dreams. Anna Roussos is the go-to celebrity photographer in Greece with an eye for capturing the finer details of such a superb event. Her years of experience and appreciation for posh luxuries make her the ideal choice for weddings of such grandeur. Subliminal and sumptuous are at the heart of Greece weddings fit for luxurious tastes and fanciful gatherings.
"Anna is a truly amazing wedding photographer in Greece! She has photographed most of our weddings and working with her is always an absolute joy.
Her photos come out stunning
every time without fail!"
white ribbon boutique events
"The wedding photos Anna took for us are so elegant, artistic, and real. She has impeccable taste and talent to notice and capture the beauty around her in her unique way.
Marriage of His Imperial Highness Prince Rostislav Rostislavovich Romanov with Miss Foteini Maria Christina Georganta.
HIH Prince Rostislav Rostislavovich Illinois (USA) and is the eldest son of the late Prince Rostislav Rostislavovich II and his wife Christia Ipsen, now Lady Ampthill. He is a great-grandson of Grand-Duchess Xenia Alexandrovna of Russia and Grand-Duke Alexander Mikhailovich of Russia, and a descendent of both Tsar Alexander II and Tsar Nicholas I.
Elegant Wedding in Santorini
Jen and Nick found the ethereal setting for their luxuriant wedding in Italy at a stunning cathedral in Orvieto overlooking the sheer cliffs.
From ancient ruins, parklands, olive groves, and sweeping vistas, the postcard-perfect sight nestled on a sloping hillside had ethereal romance written all over it. Think arched entrances, a Romanesque church, a frescoed sacristy, and a 12-sided tower built long ago. Legendary elegance, genteel courtyards, and a lush outdoor space provided the perfect scene for the celebration of love. Their elegant La Badia di Orvietto affair rivaled even the most luxurious love trysts that came before it.
Perched high on the dramatic cliffs of Santorini, bride Kristin and groom Andrew found their haven for the ultimate Greece wedding.
Santorini's signature monochrome white houses and stark blue sea were the perfect backdrop to encapsulate the sumptuous feel of the day. Pops of color, like the bougainvillea flowers demurely tucked in the bridesmaid's hair and the glimmering gold of the bride's Valentino shoes, added just enough playfulness to the otherwise sleek minimalism. It is a Greece wedding photographer's dream to be present for the union of two compatible souls like Kristin and Andrew.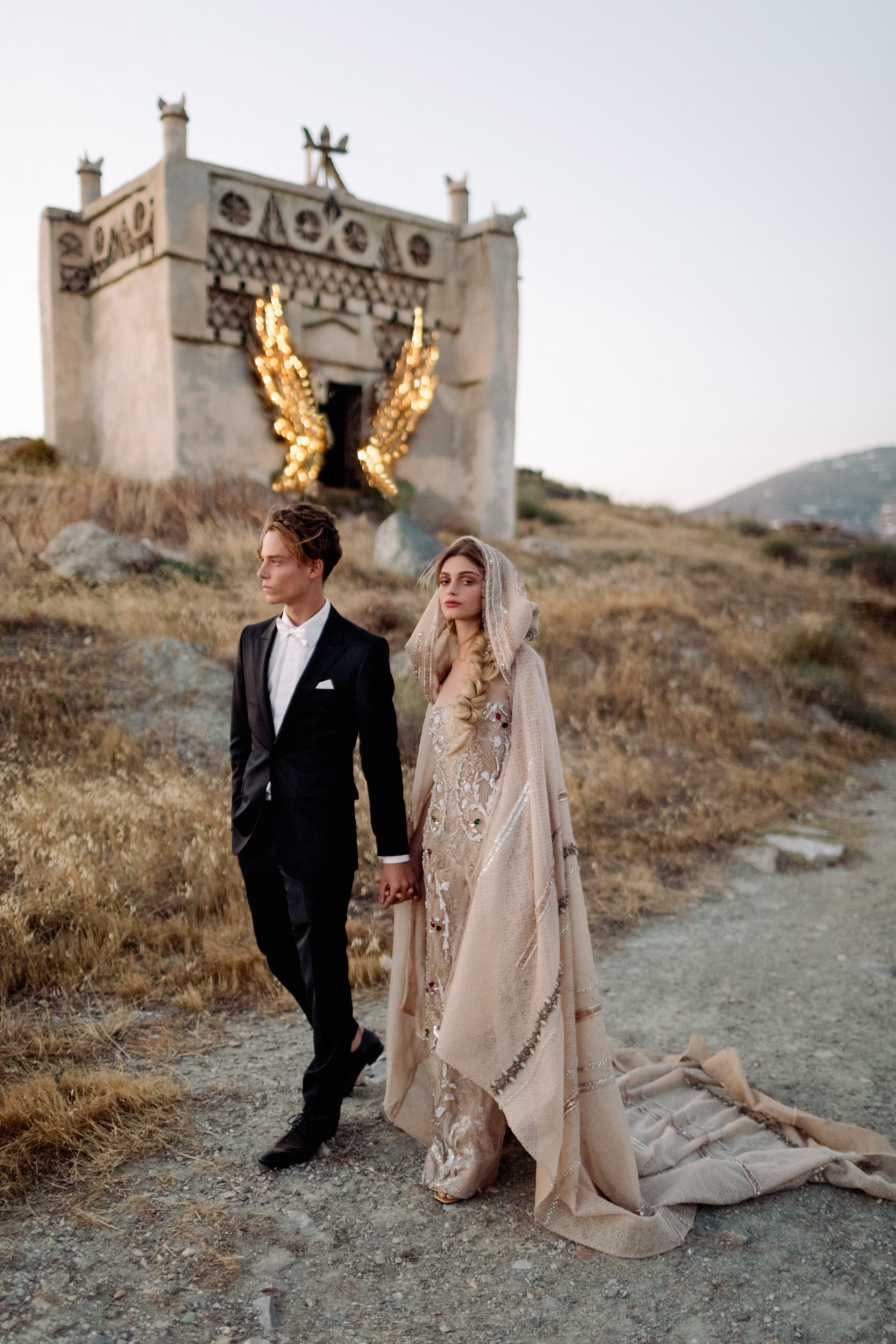 There is a certain mysticism that lies on Greek islands, and "Dovecote Lovers'' editorial on Tinos paid homage to the arcane essence of this exotic Cycladic location. With its naturally boho-luxe style and earthly hues, Greece as an elopement destination for adventurous couples has been on the rise.
The stark contrast between the desert land, monochromatic homes, and the undulating sea is ideal for couples who crave a quest out of the ordinary for their wedding day. A magical getaway to an island off the beaten path makes it an editorial dreamscape for wedding photography in Greece.